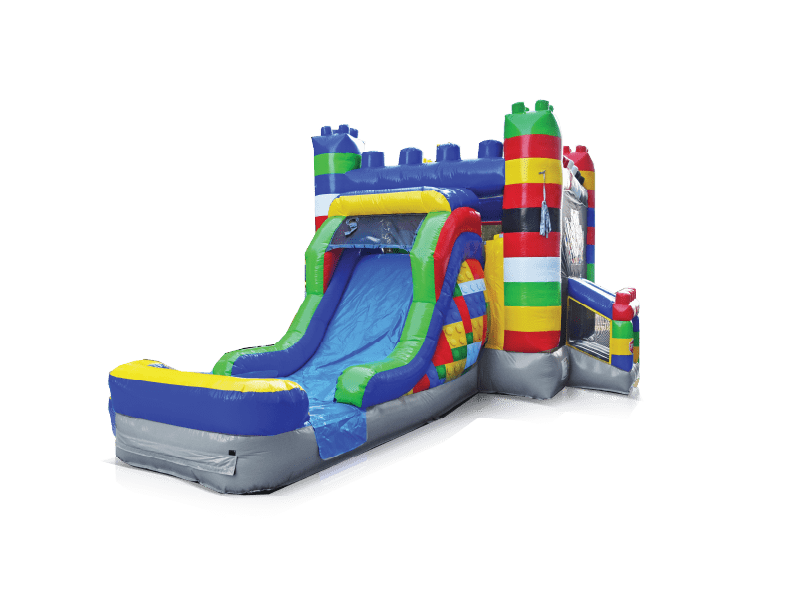 18 Sep
Choosing the Right Bounce House for Your Event: Size, Themes, and Safety Considerations
Your Comprehensive Guide to Making the Best Bounce House Selection
---
Space Exploration: Crafting Unforgettable Moments with the Perfect Size
Logistical concerns can often dilute the thrill of an approaching event—chief among them ensuring your bounce house fits like a glove in your venue. But what if we told you that these concerns melt away with The Big Bounce Theory? We understand that every event space is unique. From expansive gardens to intimate indoor settings, we have the expertise to help you make a selection that optimizes your available space.
Yet, the perfect fit is about more than just width and breadth. It's also about the altitude! Especially for those cozy indoor venues, ceiling height becomes crucial. With our extensive range, you can pick a bounce house that fits and allows for that necessary buffer zone, ensuring your event is grand and safe.
Thematic Fantasies: Elevate the Atmosphere and Watch Their Eyes Light Up!
At The Big Bounce Theory, we believe in dreams and fantasies. Our diverse range of themes has the power to transform any event, bringing those dreams to life. Whether you're whisking your little one away to a magical princess castle or setting the stage for superheroes to rise, our themed bounce houses are the ticket to an unforgettable journey.
But the beauty of our themes isn't just in their diversity—it's in their authenticity. Every detail counts when you're hosting an adult's retro-theme party or a whimsical children's birthday. With our meticulous designs and rich variety, you're not just choosing a bounce house; you're crafting an immersive experience that'll be the talk of the town.
Peace of Mind Delivered: Our Undying Commitment to Safety
Your event's success hinges on myriad factors, but nothing trumps the safety of your guests. At The Big Bounce Theory, we go the extra mile to ensure our inflatables meet the highest safety standards. But our commitment doesn't end there. We believe in empowering our clients with the knowledge to set up safely.
Your environment plays a critical role in safety. The placement on a flat surface, keeping potential hazards at bay, and ensuring the bounce house is securely staked—every detail counts. And as you bask in the joy of your event, you can rest easy knowing we've got your back, safeguarding your cherished moments.
Dancing with the Elements: Bouncing Joyfully, Rain or Shine
When envisioning the perfect outdoor event, images of sunlit skies often dominate. But Mother Nature has her plans. With The Big Bounce Theory, you can take control. Our range of bounce houses are designed with the unpredictability of weather in mind. From scorching suns to sudden drizzles, we've got you covered—literally.
Discussing weather-proof options with us means you're one step ahead. Many of our bounce houses come with sunshades or rain covers, ensuring the fun doesn't pause. And for those rare stormy days, our expert team is always on hand to provide guidance, ensuring your guests are safe, come rain or shine.
Boundless Joy within Boundaries: Age and Weight Limits for Uncompromised Safety
Every child, teenager, or adult has a distinct sparkle in their eyes when they see a bounce house. But ensuring that sparkle remains untainted by accidents requires setting boundaries. At The Big Bounce Theory, we pride ourselves on transparent guidelines prioritizing safety without compromising the fun.
Overloading a bounce house isn't just against the rules—it's a safety risk. We provide detailed age and weight restrictions for each inflatable in our catalog. This ensures not just the longevity of the equipment but the sustained joy and safety of its users. For diverse age groups, consider our expert-recommended solutions, from renting multiple bounce houses to creating age-specific time slots.
Spotless Celebrations: Our Promise of Pristine and Hygienic Fun
Imagine the anticipation in the air, the kids lining up, only for them to enter a bounce house that's less than clean. That's not the Big Bounce Theory way. We understand that cleanliness significantly impacts the overall experience, and we're uncompromising in our hygiene standards.
In times when health and cleanliness have taken center stage, we've doubled down on our efforts. Every inflatable from The Big Bounce Theory undergoes rigorous cleaning and sanitization between uses. If you have specific health concerns or are hosting during heightened health-alert periods, our team is primed to provide additional measures, ensuring every bounce is fun and hygienic.